Try it online
Size table
Size Guide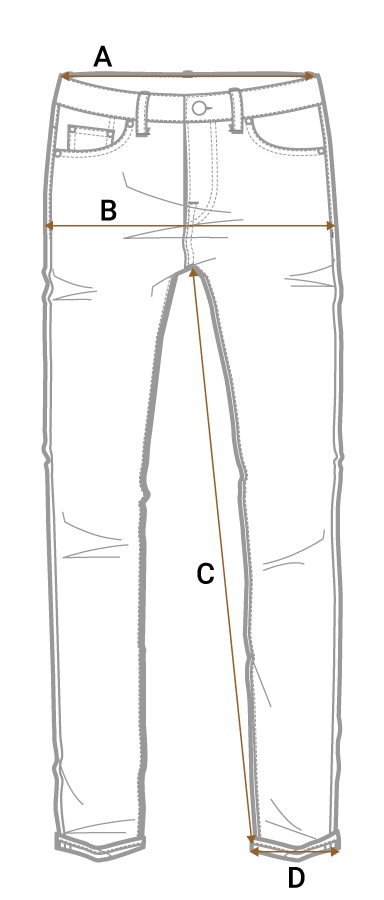 DENIM
| Size | A | B | C | D |
| --- | --- | --- | --- | --- |
| 28 | 36 cm | 46.5 cm | 80 cm | 16 cm |
| 29 | 37 cm | 47 cm | 80 cm | 16 cm |
| 30 | 37.5 cm | 49 cm | 80 cm | 16 cm |
| 31 | 39 cm | 50 cm | 80 cm | 16 cm |
| 32 | 40.5 cm | 51.5 cm | 80 cm | 16.5 cm |
| 33 | 42 cm | 53 cm | 80 cm | 16.5 cm |
| 34 | 44 cm | 55 cm | 80 cm | 17 cm |
| 36 | 46.5 cm | 56.5 cm | 80 cm | 17 cm |
| 38 | 49 cm | 59 cm | 80 cm | 18 cm |
Compare the measurements of a garment you are wearing with ours.
Take measurements with the garment lying horizontally.

If you hesitate between two sizes, choose the larger one. Otherwise, choose your usual size.
Go back
Express Shipping
Shipping costs vary by locations
Shipping
Cost of shipping depends from where you're ordering, as shown in the chart below.
Zone 1
(1/3 working days)
Austria, Belgium, France, Germany, Luxembourg, Holland, United Kingdom, Spain, Croatia, Denmark, Finland, Greece, Ireland, Portugal, Sweden, Poland, Czech Republic, Slovakia.
Zone 2
(2/3 working days)
United States, Canada, Monaco, Andorra, Iceland, Canary Islands, Liechtestein, Norway, Serbia, Switzerland, Turkey, Ukraine.
Zone 3
(4/5 working days)
China, South Korea, United Arab Emirates, Japan, Hong Kong, India, Kuwait, Malaysia, Mexico, Russia, Singapore, Argentina, Australia, Brazil, Chile, Colombia, New Zealand, South Africa, Taiwan, Uruguay, Israel.
Returns
Learn more about your country fee
Returns
Easy returns worldwide on all orders. You have 14 days from the date you receive your order to send your return request.
Austria, Belgium, France, Germany, Luxembourg, Netherlands, Spain and Switzerland
Rest of Europe and Great Britain (Bulgaria, Croatia, Republic of Cyprus, Czech Republic, Denmark, Estonia, Finland, Greece, Hungary, Ireland, Latvia, Lithuania, Malta, Poland, Portugal, Romania, Slovakia, Slovenia, Sweden and Great Britain)
Product details
Material
Cotton Stretch: 98% Sustainable Cotton, 2% Elastane. Better Cotton Initiative.
Care Instructions
Machine wash at 30° C. Do not tumble dry.
Description
We have selected a fabric produced by one of the greenest Italian producers in the world, the Candiani Denim, in compliance with the Better Cotton Initiative. The denim is both comfortable and authentic thanks to the 13 oz stretch cotton canvas manufactured using a ring-weaving spinning line.